Siri – Apple's popular voice command assistant service – is only available on the iPhone 4S of the iPhone family. So even if you have upgraded your iPhone 4, or iPhone 3GS phone to the latest iOS5 operating system, you still can't have the Siri functionality on your iPhone.
And given that the iPhone 4S itself has not been jailbroken (yet), Siri was inaccessible to other phone versions until now.
Last Friday, just 2 days before Christmas, hackers Grant Paul (aka chpwn), Steven Troughton-Smith and Ryan Petrich (aka rpetri.ch) released a new tool called Spire that they say brings all the voice assistant's functionality to any jailbroken iOS 5 device.
And unlike other Siri ports created in the last few weeks, Spire, the hackers claim, is perfectly legal!
Spire uses a new method to obtain the files necessary for Siri, so it doesn't have the copyright issues encountered by previous attempts. Similarly, rather than directing all traffic through a specific proxy server (and the associated privacy issues), Spire allows you to specify your own proxy server
Where To Download Spire Siri Jailbreak?
Spire is available in Cydia right now. Note you will have to search for Spire in Cydia from inside your jailbroken iPhone. For step by step instructions on how to install Spire, check out this post.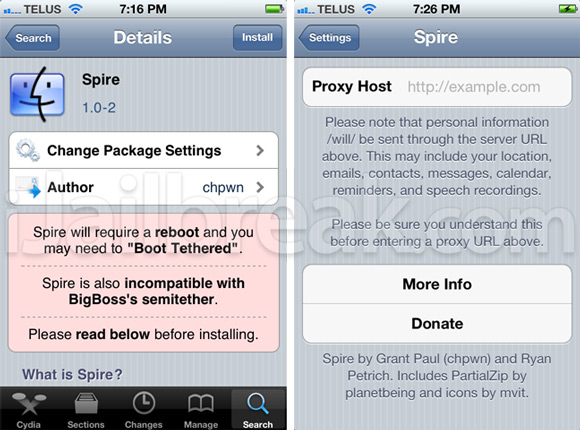 Remember this will use about 100 MB of data, so you will need to connect to a Wi-Fi hotspot before attempting the installation.
[sources: blog.chpwn.com, ijailbreak.com ]