'Find My Friends' is a new FREE app (requires Apple's iOS 5  – the software that powers iPhones, iPads) that, according to apple is "a great way to track and meet up with friends". If your friends agree, you can see their locations on a map on your iphone or iPad screen.
Earlier this month, apple release iOS 5 to the general public and release the Find My Friends app along with it. Barely days into it, this new app may already have claimed it's first unwitting victim, a woman in New York City who was cheating on her husband.
A certain male user who goes by the name of Thomas Metz ("macrumors newbie") joined MacRumors forum and immediately published a sensational forum post titled
"Divorcing wife. Thanks iPhone 4s and Find My Friends".
In that post, Metz wrote
I got my wife a new 4s and loaded up find my friends without her knowing. She told me she was at her friends house in the east village. I've had suspicions about her meeting this guy who live uptown. Lo and behold, Find my Friends has her right there.
then he added…
I just texted her asking where she was and the dumb b!otch said she was on 10th Street!! Thank you Apple, thank you App Store, thank you all. These beautiful treasure trove of screen shots going to play well when I meet her a$$ at the lawyer's office in a few weeks.
and finally, the question on every soon-to-be-divorced spouses' mind…
thankfully, she's the rich one.
While a lot of things about this posting look very suspicious (we have not been able to independently confirm if this is a real posting or a made-up one), if true, this would be the first cheating-spouse-bust-leading-to-divorce situation in the world that resulted from using the Find My Friends App (iTunes link)
Metz has also posted a screen-shot of the cheating with some text messages on the left and a map from the 'Find My Friends' app on the right.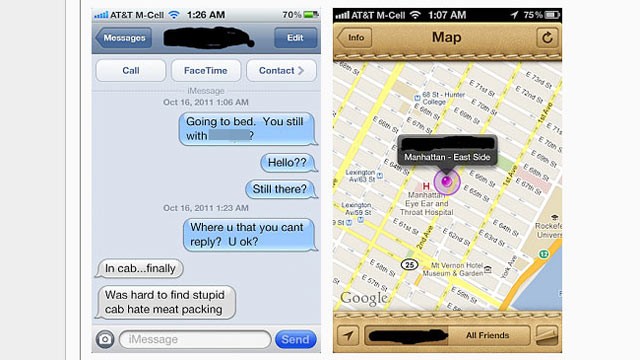 The timelines are as follows.
At 1:06 AM, he texts his wife saying that he is going to bed and asks her where she was.
At 1:07 AM, he takes a screenshot of someone in Find My Friends located in Manhattan – East Side.
At 1:23AM, his wife texts him back saying she had a hard time finding a cab in the meat packing district.
At this point, Mr Metz is convinced that his wife is cheating on him, and hence the posting on MacRumors.com. Arnold Kim, the editorial director of MacRumors said that it was "definitely a busy thread", but stopped short of verifying the authenticity of the posting, and simply stated that "everyone who registers for its forums has to validate their email when they register."
Stay tuned while we continue to follow this story and report back to you.
Meanwhile, if you suspect your spouse is cheating on you, here is the Find My Friends App on the Apple App Store iTunes link.
[via  forum post on MacRumors]